PETITES NOTES ET PIÈCES ÉPHÉMÈRES
©Design Olivier MARIN  http://oliviermarinalto.com
ILLUSTRATIONS : Tiphaine BOILET 
https://tiphaine-illustration.jimdo.com/
https://www.facebook.com/ti.anne.art?__mref=message_bubble
PRICE OF THE REALIZATION OF AN INSTRUMENTAL METHOD OR MUSICAL TRAINING
Organized by the Chambre Syndicale des Éditeurs de Musique de France
Prize of the 6th edition of the Musical Education Awards
« PETITES NOTES ET PIÈCES ÉPHÉMÈRES » OLIVIER MARIN (PARIS)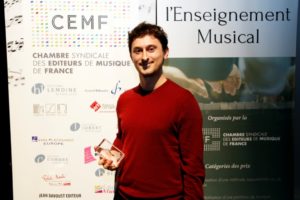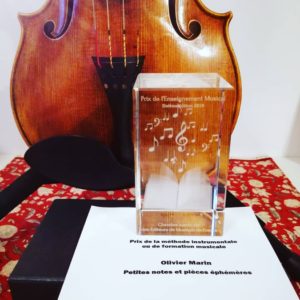 HERE'S THE PLOT……
"Among the orchestra whose name is "It's raining cat and dogs", a tragic event has occured!
Our renoooooooowned conductor Umberto Di Draculano was deserted and betrayed by his musicians during a concert at the Grand  Scala Philarmonica Prestissima Del'Unica Prestisima Musica.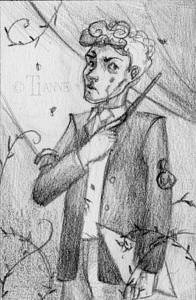 His so called "Atlantis" symphony sunk into an unspeaaaaaaaaakable cacophony.
His audience was so disappointed that they threw tomatoes and other odd rubbish at him. No need to say the reputation of our dear maestro was stained forever.
A picture of him, dressed in dirt, was published on the front page of daily newspapers.
But the conductor is not fool, as he knows some of his musicians played badly on purpose in order to shame him.He swore never to be back on stage until he found the guilty pupil!
Get ready, then  … get ready to play for your defense! "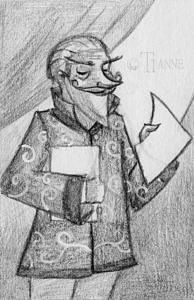 Renfidelio, vile deputy and devoted artistic bailiff of the renowned Di Draculano and his orchestra 
"It's raining cats and dogs".